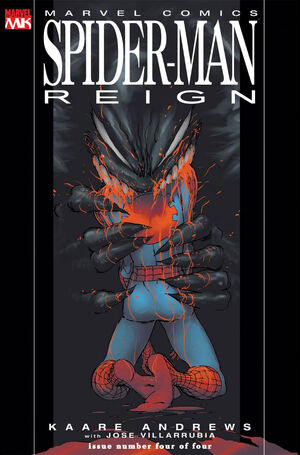 Spider-Man: Reign #4
Release Date: May, 2007
Cover Artist: Kaare Andrews
Writer: Kaare Andrews
Penciler: Kaare Andrews
Inker: Kaare Andrews
Colourist: Jose Villarrubia
Letterers: Chris Eliopoulos
Editor: Axel Alonso, and Rus Wooton
Editor-in-Chief: Joe Quesada
---
Introduction: Venom (from cover): "Hmm, needs salt"
---
Review: The first three issues of Reign on average are just OK. However, I loved the conclusion.
Like I stated above, the first half of Reign was mediocre, but the second half was Awesome. Everything comes to a great climactic ending. One that's an extremely satisfying possible end to the Spider-Man legend.
Lot of people were call it a rip-off of The Dark Knight Returns (DKR), which might be the case, but I think it's good enough to stand out on it's own. Kaare Andrews didn't try to pretend that this wasn't inspired by DKR. Oh no, before the series was released he actually this was "Spider-Man's Dark Knight Returns". He even names the reporters in Reign after the creators of DKR!
It was filled with some great moments. My main criticism with this series, is that I feel the story could've been extended more. I almost wish this either had more issues, or more pages per issue. Also, I would've liked to have gotten a view of Spider-Man's other famous foes in that dark future like Green Goblin, or some of the other Marvel heroes making quick appearances, or small roles. I do think it's cleaver that it plays on fact that we don't know for sure what's happened to these characters in the course of 30 years.
The art wasn't the best (OK, it was pretty bad), but I don't think artwork should influence how people see a story. Although, I forget that myself sometimes.
Overall, this was one of the best Spider-Man mini-series I've read. I hope that Kaare Andrews will make a sequel mini-series one day. Actually, never mind.
---
Overall Rating: 10/10= Legendary
---
Story Summary: "Book Four"
Spider-Man crawls his way up the mayor's building. The Sinner Six are waiting inside. The kids continue to strike the old bell from the church tower. The noise is keeping the symbiotes back. The Reign soldiers, led by Sandman are under orders to stop them. The mayor calls them terrorists. As the Sandman steps forward to tell them they have no hope of winning, the little girl in charge goes off on him. She says hope has three daughters: Anger, Courage, and Truth (sorry, that feels ike it came out of nowhere). As she removes her mask, Sandman notices that she has his eyes, he realizes that's his daughter. She suddenly turns into cement. Upon seeing the fact that she's a "super illegal," the other men open fire. Sandman use his powers to hold their fire. After being shot so many times, the girl is in couple of pieces. Sandman picks her up and tells her it's going to be okay.
With the bell stopped, Venom can now think again. Spider-Man busts through a window where Electro and Hydro-Man are. He quickly takes them out after reminding them that electricity and water don't mix. Scorpion's next. He says with his new suit he can do anything. Spider-Man asks him if he can fly as he knocks him out the window. Mysterio tries rattling Spider-Man's mind by posing as Mary Jane. Spider-Man punches through his dome and knocks him out (Spider-Man: "Don't dress up as man's dead wife, unless he pays you to"). Kraven too is defeated.
Outside, Sandman tries to fight back the symbiotes as he still holds his daughter. He tells her to focus and try to reform herself. Suddenly, the symbiotes leave. Thinking they've won, he looks down and finds her girl has died. Heading towards the building, he tells one of the soldiers to go home to his kids as he heads inside.
Spider-Man arrives to confront Venom. The symbiote blames Spider-Man for bringing it to this planet and making it a prisoner (Can't say I blame him, or her, or whatever the fuck it's gender is). The mayor soon realizes that his plan on keeping the city safe with the help of Venom was a mistake. He runs off as Spider-Man battles Venom. As Spider-Man begins to black out, he sees himself as the nerdy high school student he once was. Mary Jane walks up to him and gives him a pep talk. Smashing out a window, Spider-Man starts crawling to the top of the building (Man, talk about Atari 2600). He notices that the people below are watching rather than running home. He knows he might die. He sees dying a way to make the people of the city fight harder. Followed by hundreds symbiotes, Spidey is in true form. He lets out the wise-cracks as he takes hit after hit and getting in some of his own. Battered and bloody, Spider-Man soon finds Sandman walking up behind him. He tells Spidey that he's got a date with Truth. He hands him the detonator he got from the mayor that controls the remote explosives that are lodged into his and the rest of the Six's molecular structure. With the Sandman swallowed and the other Sinister Six's in the building, Spider-Man pushes the detonator surrounded by symbiotes. The building explodes.
On the streets, J. Jonah Jameson walks past a child. He asks him what it means. Jameson tells him it's a second chance. He is soon on television telling how the streets are no longer safe. There are rapes, mugging, and murder on on every corner once again. The "super-terrorists" are loose again. "God bless 'em."
As a criminal tries to rob a bar, he is suddenly webbed up from behind and left hanging. Spider-Man in a trench coat and hat walks away telling MJ that he will see her again someday but for now, he has responsibilities (until he gets killed by Daemos in Spider-Verse #1).
---
References: http://comicvine.gamespot.com/spider-man-reign-4-book-4/4000-106931/ for the edited story summary
http://marvel.wikia.com/wiki/Spider-Man:_Reign_Vol_1_4 for comic book cover, and credits
So please kind sir, don't sue me for plagiarism!